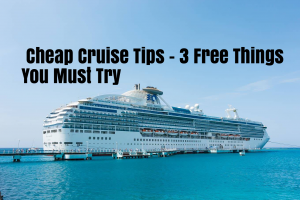 I have been on many cruises in my life, and I intend to go on many more. I enjoy all the amenities that a cruise vacation has to offer, but there are 3 things that I do everyday, and on every cruise.  Here are some Cheap Cruise Tips…
1.Get up early to watch the incredible sunrises.  Every night, the cruise line delivers its daily newsletter for the next day. Among other things, this newsletter will tell you the time of sunrise the next morning. I always get up half an hour early, even before my shower and get up on deck when it is still dark. I pour myself some coffee, find a nice seat and watch the sun rise.
2.Walk around the ship on the walking track. Most ships have a walking track. It usually circles the Promenade Deck or the Atlantic Deck. There will be a sign indicating how many times around the track equals one mile, its usually 3 laps. You can decide how many miles you want to walk and how fast. But you should do at least one lap just to enjoy the beauty of the open sea
3.Enjoy breakfast in the dining room. Very few people seem to know that the dining room is open for breakfast. There is also a selection of much better food than the Lido deck buffet. Every morning, I enjoy a leisurely breakfast of eggs Benedict or pancakes and fresh fruit delivered to my table along with my coffee by a very attentive waiter. Sure beats standing in line for the buffet.
All three of these things listed are things that I enjoy on every cruise, everyday. And you should too. The most important thing about a cruise for me is enjoying things that we cannot do at home. These things are free and they certainly qualify.
When I cruise, I really enjoy everything it has to offer. From the first-class Broadway style shows to the five-star gourmet cuisine.