Golf in Cape Cod attracts enthusiasts from all over since the golfing season is significantly longer here than other parts of New England. You don't necessarily need a membership at Cape Cod National, Eastward Ho or Ridge Club to tee off. There are a few public Cape Cod golf courses which have outstanding facilities for the pre-summer crowd.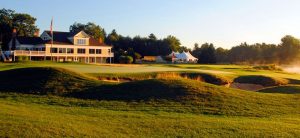 Bass River is one of the two municipal Cape Cod golf courses in Yarmouth. It features an 18-hole course with wide meadows, plenty of greenery and an unbeatable view of the Bass River. The public golf course was designed by Donald Ross in 1900. It has challenging holes but offers enjoyment to players of all levels. The course is in excellent condition and not only promotes golf in Cape Cod but has a club house and snack bar that was recently renovated.
This Cape Cod golf course is the pride and joy of Harwich. It is well-maintained, beautiful landscapes make it the fifth best public golfing facility in all of New England. This honor was bestowed upon Cranberry Valley by the New England Golf Monthly in 2016. The pleasant 18-hole course poses a challenge to even the most refined players. It has pleasant practice greens, sand areas, short game and adequate ranges golf in Cape Cod. The facility was recently upgraded with new teens and a highly improved restaurant and bar area which is run by Harwich's very own The Hot Stove. The staff at the pro shop is extremely friendly as are all the starters and caddies.
Falmouth Country Club, Falmouth
The public Cape Cod golf course in Falmouth has a total of 27 holes. The course offers pure fun to players of abilities and levels. It is the best choice for those who are driving in from the off-Cape. The course has no driving range and the chipping area is better than those at your average facility. The pro shop is known for its great customer service. It is much easier to get tee-time at the Falmouth Country Club. The facilities are in perfect condition and the staff is very cooperative which is what makes it a hidden gem of golf in Cape Cod.
Chequessett Country Club, Wellfleet
Even though the Chequessett course had only 9 holes, the spectacular views of Wellfleet Harbor make it a worthy addition to golf in Cape Cod. There are separate tees available too for an entire day of 18-hole fun. Those who are looking for a quaint 9-hole course in Cape Cod are in luck as the Chequessett Yacht & Country Club offers an enjoyable experience. Not only does the club have golfing facilities but other activities such as sailing and tennis are also offered to guests. Children can play to their heart's content in the dedicated camp for golfing, tennis and sailing. The staff is ever-ready to help with any problem. Their snack bar is also a must-visit. Do not forget to enjoy the views of the harbor while teeing off at this wonderful Cape Cod golf course.