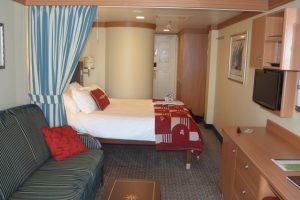 Before getting into my topic, I would just like to give you some background information to let you know that we have lots of cruise experience.
My wife Ileana and I have done 38 cruises on 7 different cruise lines. We have traveled to Alaska, Hawaii, South America, the Panama Canal and all over the Caribbean.
The cruise industry is booming. Thousands of people are learning how economical cruising has become. To fill this demand cruise companies are building bigger and better ships. Royal Caribbean recently launched Harmony of the Seas; Meditteranean Shipping Co. (MSC) launched the Seaside on December 23, 2017; Norwegian will launch the Bliss on November 24, 2018. My wife and I are booked on this cruise. So you can see they are trying to meet the demand.
Two people in every cabin would be 100%. A ship is considered fully booked with up to 110% of capacity. They accomplish this by having more than 2 people in a cabin, like a family of 4, 5 or more.
That said I would like to talk to you about cruise cabins that are not sold. What happens to them? First off, cruise companies hate to leave port with empty cabins. They will make a variety of offers to fill  their ships. Furthermore, cruise companies do not sell to last minute customers.  In the U.S., Homeland Security requires a minimum of booking at least 72 hours prior to the cruise date.
Most cruisers book months in advance. Usually cruises have to be paid in full between 75 or 90 days from the cruise date, depending on the cruise line. Any unsold cabins are then offered at a reduced rate.
It is easier for the cruise lines to sell the cheaper cabins quickly. What they will do is upgrade existing passengers. Anyone in a balcony cabin would be offered a suite or mini-suite. People in a porthole cabin could the be offered a balcony cabin. Some lines offer this as a free upgrade while others charge an additional fee. This could be as much as $200.00. They will also offer cabins to shoreside employees at very reduced rates and/or  schedule any maintenance to these empty cabins.
So by now you're asking me 'how c an I take advantage of these reduced rates?. First of all, you have to be flexible. You should be able to travel at a moments notice. It is also beneficial to be able to travel during non peak seasons. Easter, summer, Thanksgiving and Christmas are peak seasons and are usually fully booked. January, February and October are usually when you would get the best fares.
Keep in touch with your travel agent, cruise line e-mails, some twitter accounts.  Look at web sites such as Cruise.com,Vacations to Go, CruiseOne, Cruise Planners, etc. Better still, get on the mailing list to one or all of them. Their e-mails or newsletters will tell you what is available. Cruise lines will also send e-mails of sales, so it pays to get on the websites of any or all of the cruise lines.
Another point to keep in mind is that you will not get a choice of cabin. you get what is available. you could be in a busy noisy area, have a restricted view from your balcony or window. You could also get lucky and get the perfect room.
I hope that this will help you in your quest for a fun cruise.
Ed Abeles